DW / Elliot Douglas
https://www.nytimes.com/2020/06/10/opinion/sunday/twitter-protest-politics.html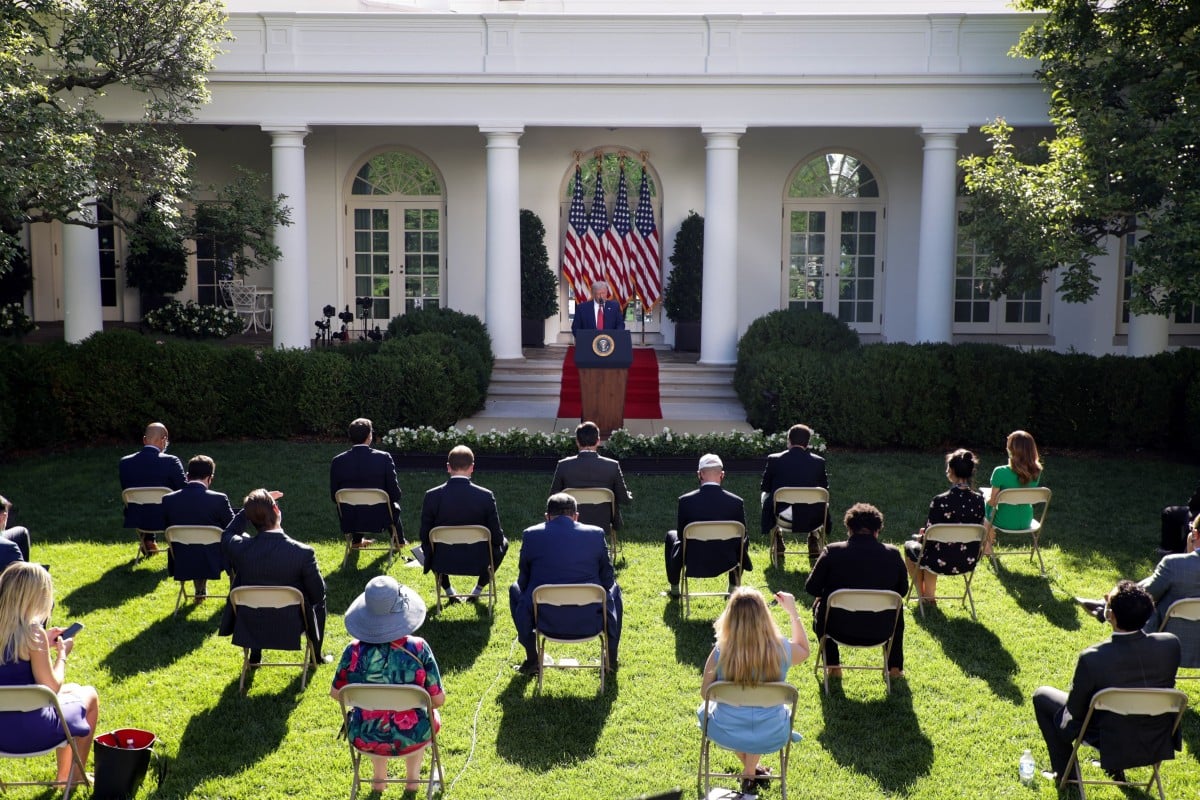 After US President Donald Trump signed the Hong Kong Autonomy Act and an executive order that will remove the city's preferential trade status, legal experts have warned that "all is on the table" with regard to possible punitive actions against Hong Kong.
The act contains a clear path to sanctioning individuals and the financial  institutions where they bank, though extended review periods mean these  may not come into force until December 2021, at the latest.
It comes after the United States already revoked Hong Kong's preferential access to export controls exemption licenses, cutting the city off from sensitive technology shipments from the US in response to China's controversial national security law for the city.
"The Hong Kong Autonomy Act is a big blow to Hong Kong and China, and is the latest example of the free-fall style of US-China relations," said Shi Yinhong, an adviser to China's State Council and professor at Renmin University. "Now China is in a difficult position – its domestic economy needs to be improved and the international situation is hostile towards China."
Trump's executive order does not mention tariffs nor Hong Kong's ongoing access to the US dollars payments system, but by stripping the city of its special trading status, it has opened the door to duties on the small volume of goods shipped to America, experts said.
"My view, and this has played out with the [US Department of] Commerce's export controls announcement a couple of weeks ago, is that the State  Department declining to certify Hong Kong's continued justification for its  special status is all that's required [to move forward with tariffs]," said William  Marshall, trade partner at law firm Tiang & Partners in Hong Kong.
A Congressional Research Service report published in June said that "absent this separate treatment, Hong Kong may be subject to the same tariffs and other trade determinations that apply to China".
"However, there may be questions about whether all such treatment can be extended immediately if the president revokes Hong Kong's special status. Some of the uncertainty arises from whether the United States still intends to acknowledge Hong Kong as a member of the [World Trade Organisation] separate from China," the report read.
Hong Kong is a World Trade Organisation (WTO) member in its own right, and both local and officials in mainland China have said US actions could violate international trading rules.
"If the United States ignores the basic principles of international relations and takes one-sided measures based on its internal law, then the country will violate the rules of the WTO and go against its own interests," said China's Ministry of Foreign Affairs spokesman Gao Feng at a press conference in June, sentiment that has been repeated by Hong Kong's Financial Secretary, Paul Chan Mo-po.
But the Trump administration's previous disregard for WTO protocols in levying hundreds of billions of dollars worth of unilateral trade tariffs on China – also a member of the international trade body – since July 2018, led analysts to suggest the argument is "a red herring".
Trump told a press conference at the White House on Tuesday that "Hong Kong will now be treated the same as mainland China, no special privileges, no special economic treatment and no export of sensitive technologies", before adding that "as you know, we're placing massive tariffs and have placed very large tariffs on China".
Should the US decide to not recognise Hong Kong's status at the WTO, it would require backing from a two-thirds majority of the organisation member states, meaning it could be blocked by China and other members politically aligned with Beijing.
"Since Hong Kong's trade status has been withdrawn under US law, the US should 'logically' align the way it treats Hong Kong with China. All – or some – tariffs that the US imposed on Chinese exports over the past two years will be extended to Hong Kong. That will probably be done gradually to ensure political impact while economic and business consequences are marginal," said Julien Chaisse, a professor in trade law at City University of Hong Kong.
There is historical precedent for the US suing for suspension of its obligations towards another member of the global trading system. In 1951, both the former Czechoslovakia and the US sued to suspend their mutual obligations under the General Agreement on Tariffs and Trade (GATT) – a precursor to the WTO – after a trade dispute, a move which was backed by GATT members.
"If the US decides they now do not recognise Hong Kong's membership, it would be for Hong Kong to file a claim [at the WTO]," said Bryan Mercurio, a trade professor at the Chinese University of Hong Kong, who added that there would be few "practical implications for customs and Hong Kong industry, with the exception of the exportation of sensitive products from the US", given the low level of direct trade with the US.
China's Ministry of Foreign Affairs vowed in a statement on Wednesday morning to retaliate in kind.
"To protect its legitimate interests, China will take necessary action to impose sanctions against related US institutions and individuals," read the statement.
China has already announced details of its promised retaliation against the US for its sanctions over human rights abuses in Xinjiang, with US Ambassador at Large for International Religious Freedom Samuel Brownback, US Senators Marco Rubio and Ted Cruz, US Representative Chris Smith as well as the Congressional-Executive Commission on China all set to be sanctioned.
The announcement came after the US government last week placed sanctions on several Chinese senior officials in charge of the Xinjiang Uygur Autonomous Region.
"I think Beijing has made some kind of preparation when they drafted the national security law to mitigate the possible impact, though I am not sure to what extent they can deal with the latest US moves," said Liu Weidong, a Sino-US affairs specialist from Chinese Academy of Social Sciences.
Liu added that the trend of US-China decoupling is "certain" and that both sides will end up getting hurt, with political wisdom now more urgent than ever to diffuse the tension.
"This makes me deeply worried. Like many Chinese scholars have said, China is now facing an extremely difficult situation. Let's wait and see how the Chinese government will respond and react," he said.